NOD3
Node 3 "Tranquility"
← P S →
Last updated: 28.05.2016 by OK / Multispace
Color key
| | | | | | | | |
| --- | --- | --- | --- | --- | --- | --- | --- |
| CBM | International Partner Payload | International Partner Stowage | NASA Payload | NASA Stowage | ROSCOSMOS Payload | ROSCOSMOS Stowage | Space Station Subsystems |
Description
Node 3 "Tranquility" - a modified version of the original Node 1 "Unity" module (NOD1) - was the third european-built module, and the last Node-series module, brought to the station aboard Space Shuttle Endeavour on STS-130 in February 2010.
It contains the station's central life support systems (WRS, OGS and ARS) and a "bathroom" (WHC). As there are no vibration-sensitive experiments at Node 3, one of the racks is used to hold the second treadmill: T2. Due to its space requirement, ARED is now stowed in the CBM "ring" of Node 3, in front of an unoccupied berthing port.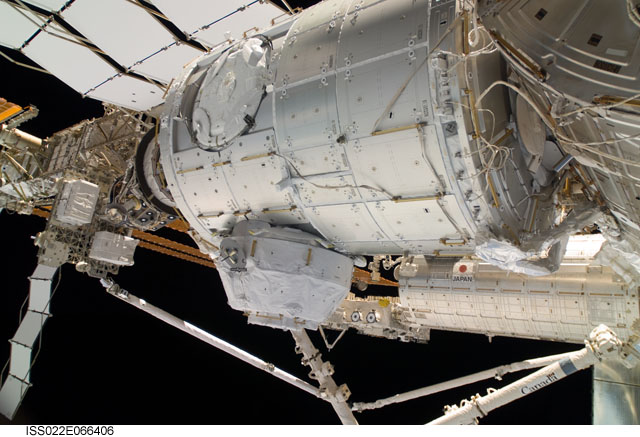 Node 3 "Tranquility" after successful installation on STS-130 in February 2010, with PMA-3 during relocation from NOD2-forward to NOD3-port.
The japanese Kibo module (JEM-PM) can be seen in the background.
Image Source: NASA.gov
More information about Node 3 "Tranquility":
References:
T2 / COLBERT
Treadmill with Vibration Isolation System No. 2 / Combined Operational Load Bearing External Resistance Treadmill (SYSTEM)
"COLBERT" is the second treadmill aboard the station. The treadmills are used to counter bone and muscle deterioration induced by long time stay in microgravity.
They function just like normal treadmills on ground - however to secure the subject in place during workout, and to simulate 1G-gravity, the subject is being pulled down towards the treadmill using a special harness and bungee cords.
COLBERT is fitted with a Vibraion Isolation System (VIS) to decouple it from the rest of the station, and to prevent shock waves from disrupting vibraion-sensitive experiments aboard the station. To minimize the effects of remaining vibration, COLBERT is located in the Node 3 "Tranquility" module (NOD3) - as NOD3 does not contain sensitive experiments.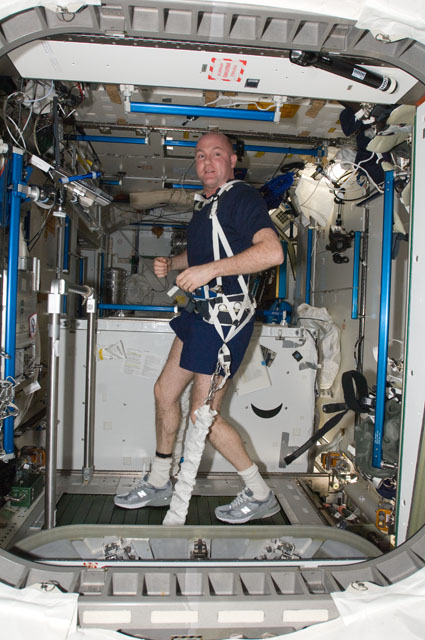 ESA astronaut André Kuipers from Expedition 30 exercising on the treadmill (January 2012)
Image Source: NASA.gov
References:
Content
Last updated: 05.01.2016 by OK / Multispace
This website uses a cookie to carry error messages and your login status across tiiss' subsites.