NOD1
Node 1 "Unity"
← A F →
Last updated: 16.06.2016 by OK / Multispace
Color key
| | | | | | | | |
| --- | --- | --- | --- | --- | --- | --- | --- |
| CBM | International Partner Payload | International Partner Stowage | NASA Payload | NASA Stowage | ROSCOSMOS Payload | ROSCOSMOS Stowage | Space Station Subsystems |
Description
Node 1 "Unity" was the first piece of the USOS, launched into space aboard Space Shuttle Endeavour on STS-88. As one of three "Node" modules, it offers one ISPR ring, aswell as six CBM ports. Following the expansion of the ISS, Unity has become the central node, connecting LAB, NOD3, the Airlock and the Russian Segment (RS). Due to its central location the storage locations contain frequently used materials, such as office supplies and tools. The NOD1P1 rack is fitted with a large table and general supplies (N1 Galley).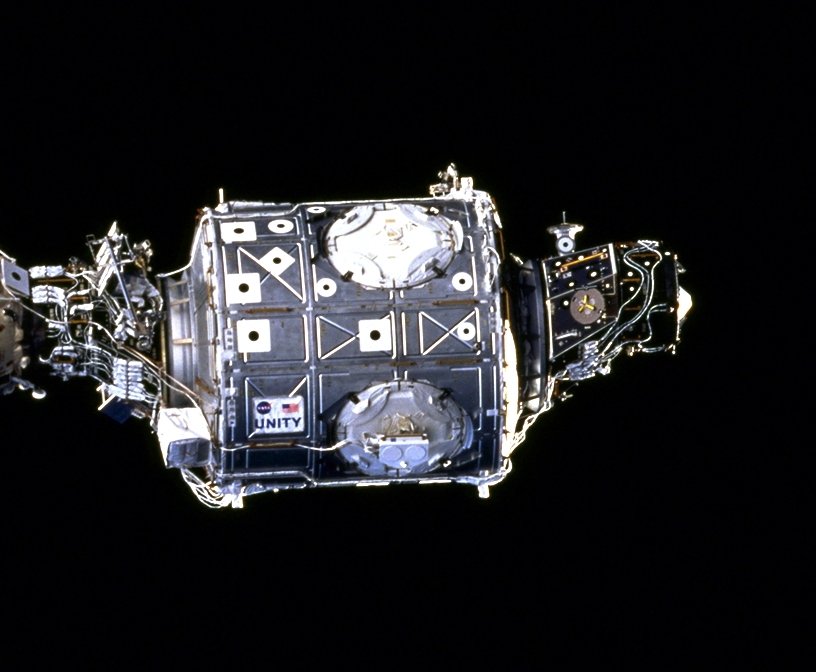 The Unity module during STS-88, in the early construction phase of the ISS. It's connected to the russian Zarja (FGB) module off screen.
Image Source: NASA.gov
More information about NOD1 "Unity":
References:
ZSR
Zero-G Stowage Rack (NASA_STOW)
Zero-G Stowage Racks are used as stowage locations for all sorts of equipment aboard the station. One Rack is subdivided into 12 compartments - each compartment is measuring approximately 50x33x85cm (w,h,d). As these racks do not provide the structural integrity for supporting their content's weight at 1g, they can only be used in microgravity.
Similar racks, additionally providing rigidness for use during launch, are called Resupply Stowage Racks (RSR).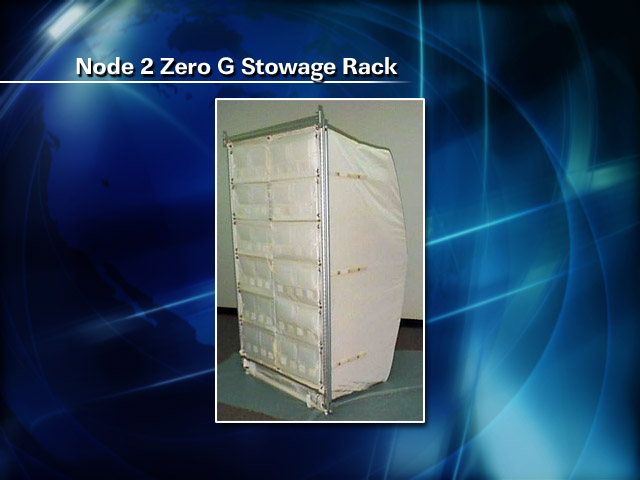 Zero-G Stowage Rack - Installed in NOD2 on STS-120 in September 2007.
ZSR's from NOD2 have since been relocated.
Image Source: NASA.gov
Content
Last updated: 23.12.2015 by Editor not found.
This website uses a cookie to carry error messages and your login status across tiiss' subsites.