NOD1
Node 1 "Unity"
← A F →
Last updated: 16.06.2016 by OK / Multispace
Color key
| | | | | | | | |
| --- | --- | --- | --- | --- | --- | --- | --- |
| CBM | International Partner Payload | International Partner Stowage | NASA Payload | NASA Stowage | ROSCOSMOS Payload | ROSCOSMOS Stowage | Space Station Subsystems |
Description
Node 1 "Unity" was the first piece of the USOS, launched into space aboard Space Shuttle Endeavour on STS-88. As one of three "Node" modules, it offers one ISPR ring, aswell as six CBM ports. Following the expansion of the ISS, Unity has become the central node, connecting LAB, NOD3, the Airlock and the Russian Segment (RS). Due to its central location the storage locations contain frequently used materials, such as office supplies and tools. The NOD1P1 rack is fitted with a large table and general supplies (N1 Galley).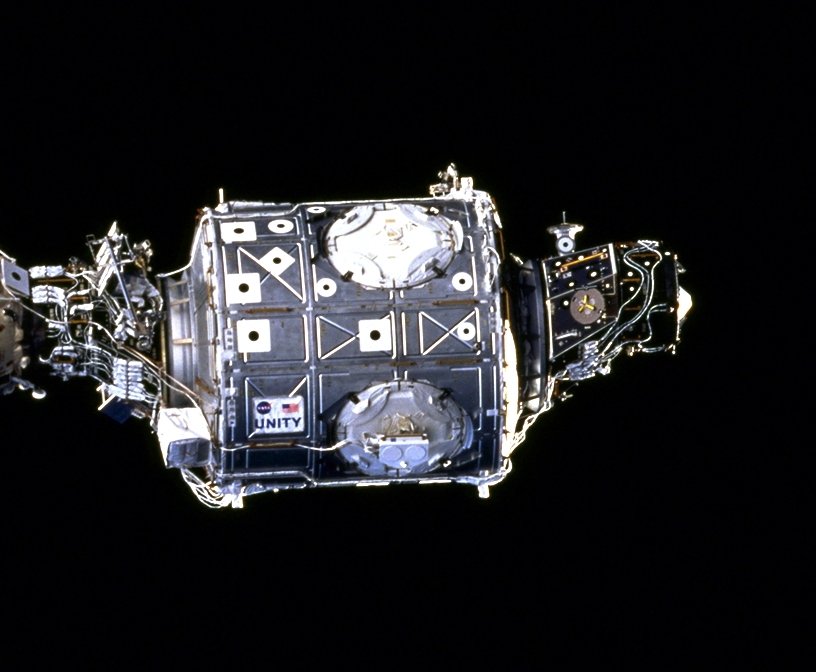 The Unity module during STS-88, in the early construction phase of the ISS. It's connected to the russian Zarja (FGB) module off screen.
Image Source: NASA.gov
More information about NOD1 "Unity":
References:
N1 Galley
Node 1 Galley (SYSTEM)
The Node 1 Galley rack is a cental stowage location in the USOS for commonly used supplies, tools and hygiene products. It features a large table (originally part of the Service Module galley) measuring approximately 110x70cm. The table is mounted on top of a ZSR, and is covered in Velcro patches, bungee cords and magnets, providing a temporary stowage location for small items. Additionally, a food warmer is mounted to the opposite wall.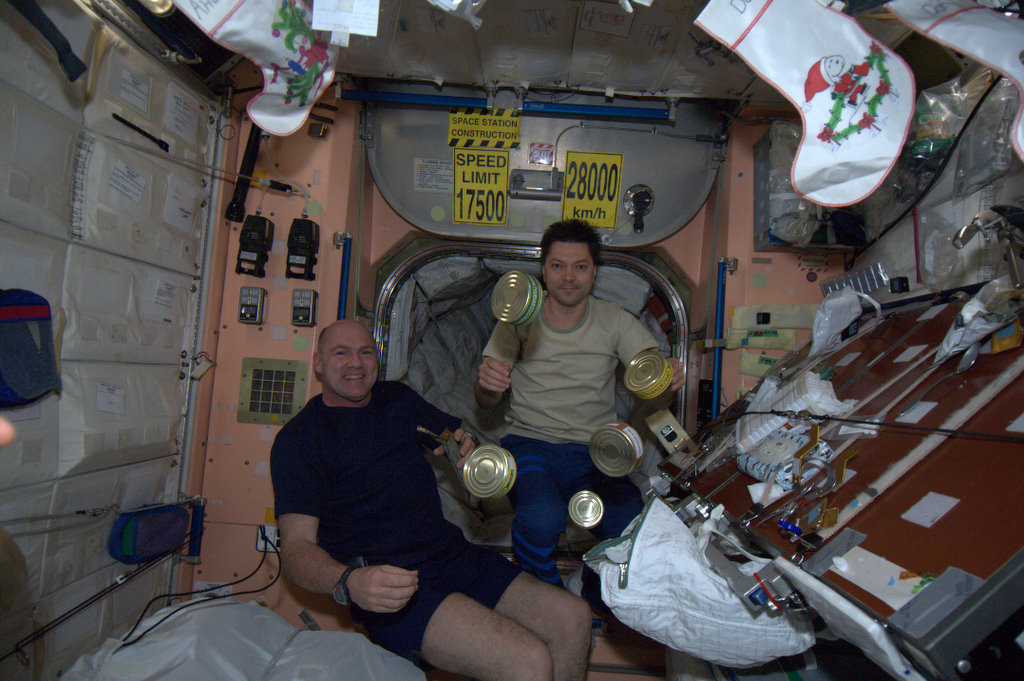 Astronaut André Kuipers and Cosmonaut Oleg Kononenko during Expedition 30/31 in January 2012, behind the N1 Galley table (right).
Image Source: ESA/NASA
References:
Content
Last updated: 04.01.2016 by OK / Multispace
This website uses a cookie to carry error messages and your login status across tiiss' subsites.