LAB
Destiny
← A F →
Last updated: 10.11.2016 by OK / Multispace
Color key
| | | | | | | | |
| --- | --- | --- | --- | --- | --- | --- | --- |
| CBM | International Partner Payload | International Partner Stowage | NASA Payload | NASA Stowage | ROSCOSMOS Payload | ROSCOSMOS Stowage | Space Station Subsystems |
Description
DDCU-1 / CEVIS
DC to DC Converter Unit with Cycle Ergometer with Vibration Isolation System on top (SYSTEM)
A Cycle Ergometer with Vibration Isolation System is mounted on top of this rack.
DC-to-DC Converter Units are part of the station's Electrical Power System (EPS), converting energy from the Storage Subsystem (ESS) to a stable supply for user loads - such as lab equipment.
DDCU-1 is supplying NOD1, LAB, NOD2, NOD3, CUP and PMM with power (presumably).
The Cycle Ergometer with Vibration Isolation System (CEVIS)
A "stationary bicycle". This exercise cycle serves as a countermeasure to microgravity-induced cardiovascular deconditioning and is part of human physiology research equipment.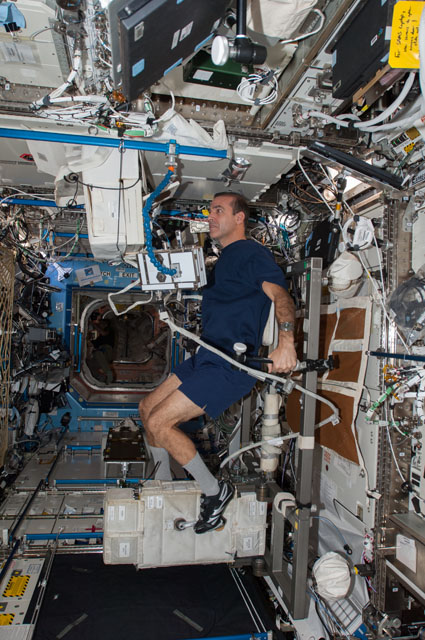 Expedition 38: Astronaut R. Mastracchio is exercising on the CEVIS.
Image Source: NASA.gov
The Electrical Power System (EPS)
The International Space Station relies on solar power to supply its systems with electrical energy. At maximum illumination, the Solar Array Wings (SAW) mounted on the Truss are able to supply energy at a voltage level of up to 173Vdc. Due to irregular illumination, however, this voltage may drop down to as low as 137Vdc (hence, the SAWs are mounted on two rotating joints - BGA and SARJ - tracking the sun). Power from the SAWs is routed to Battery Charge/Discharge Units (BCDU), which in turn are responsible for storing and retrieving said energy into and from nickel-hydrogen (NiH2) batteries.
The fluctuating primary supply voltage battery-side of the DDCU is later converted to a stable 124Vdc to power lab equipment and other user loads.
Furthermore, DDCU's may be used to adapt voltage levels between the Russian Segment (28Vdc) and the USOS (124Vdc), those units however are marked separately as ARCU/RACU (American to Russian / Russian to American Converter Unit).
Content
Last updated: 22.12.2015 by Editor not found.
This website uses a cookie to carry error messages and your login status across tiiss' subsites.